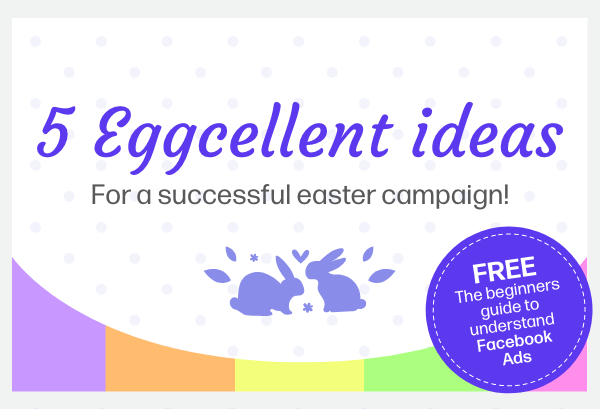 5 Eggcellent ideas for a successful Easter campaign!
As a business owner, you want to jump at every opportunity to promote your business. Spring is in the air, and summer is just around the corner and Easter is the second biggest opportunity to start a marketing campaign and improve your profits.
According to the National Retail Federation, in 2018 people spent over $18.2 Billion on easter, an average of 80% of Americans will celebrate it, and that is a big chunk of the population that is going to be hunting for the best offers. So, what can you do as a business to get a slice of that cake too? An Easter themed campaign!
Take advantage of the holidays to catch the attention of everyone, your campaign must be something that will differentiate you from your competitors. No matter if you don't have much to spend, make sure that what you do is good and well thought of. Your clients will definitely notice!
You need to set the tone of the date with designs and colors that will help you communicate better with your customers. Putting on a theme to it will give your business an easter feel in which you can attain valuable benefits, such as receiving the public's attention, and drawing them to your store.
As a brick and mortar store, make sure to decorate it. Be creative and make the most of what you have! If you rely mostly on a website, apply the same principles to it. Adding a little extra-flair can get your clientele in a shopping 
mood.
If you don't have social media, you probably should create one account for your business. A good campaign can be boosted considerably with social media. It will allow you to engage your target audience, and its really a great tool to rely on for promotions in this or any other season.
Several ways in which you can engage your customers in social media range from a simple easter look to social media competitions and giveaways. To keep customers engaged you have to regularly check and update your social media with great content such as pictures, hashtags, sales and coupons of your products. A good campaign has to have personality, don't be afraid to be creative, and you will get more followers, fans and social media engagement.
Make sure to keep a steady flow of e-mails with pertinent content, and synchronize its looks the same as you customize your store and social media.
If you don't have a newsletter, I think you should start gathering your customer's e-mail addresses and create a regular mailing list in which you can send them special information such as promotions, discounts, special events, and new products. It's tough work, but you won't regret it. Keeping in touch with them will give you a position in their minds as a reliable and dedicated business that will always care and give them the best service.
Create a special event that can run parallel with the special day to make the most of it. Everyone loves to celebrate, and you can always get on any season and arrange different events with the theme. No matter what you do, make sure to make it fun and inclusive, creating a sense of celebration will help you receive more traffic and publicity.
Promote it on your business and blast it on social media, start the campaign a couple of weeks before and keep the customers updated on the event or promotion.
If you rely heavily on social media, you should consider

paid advertising

. Depending on the platform, there are several ways to target prospects and consumers with a thematic campaign like this one. Create the ad, set a budget and keep on check the way they perform in a regular manner. You can run multiple ads at the same time, and adjust them according to their performance. This is a very useful tool and should be used outside of seasonal campaigns as well.
If you have questions, here is
The beginners guide to understand Facebook's Ads
.
.
So…There are many ways that a business owner can promote his business during busy shopping seasons with a moderate budget. It's important to plan ahead and begin the promotions a few weeks/months in advance. Small changes in your business or website, combined with good social media promotion can get your business the extra attention that you want.
Now, are you ready to begin planning your Easter campaign? If you need any help or have questions, leave us a comment!