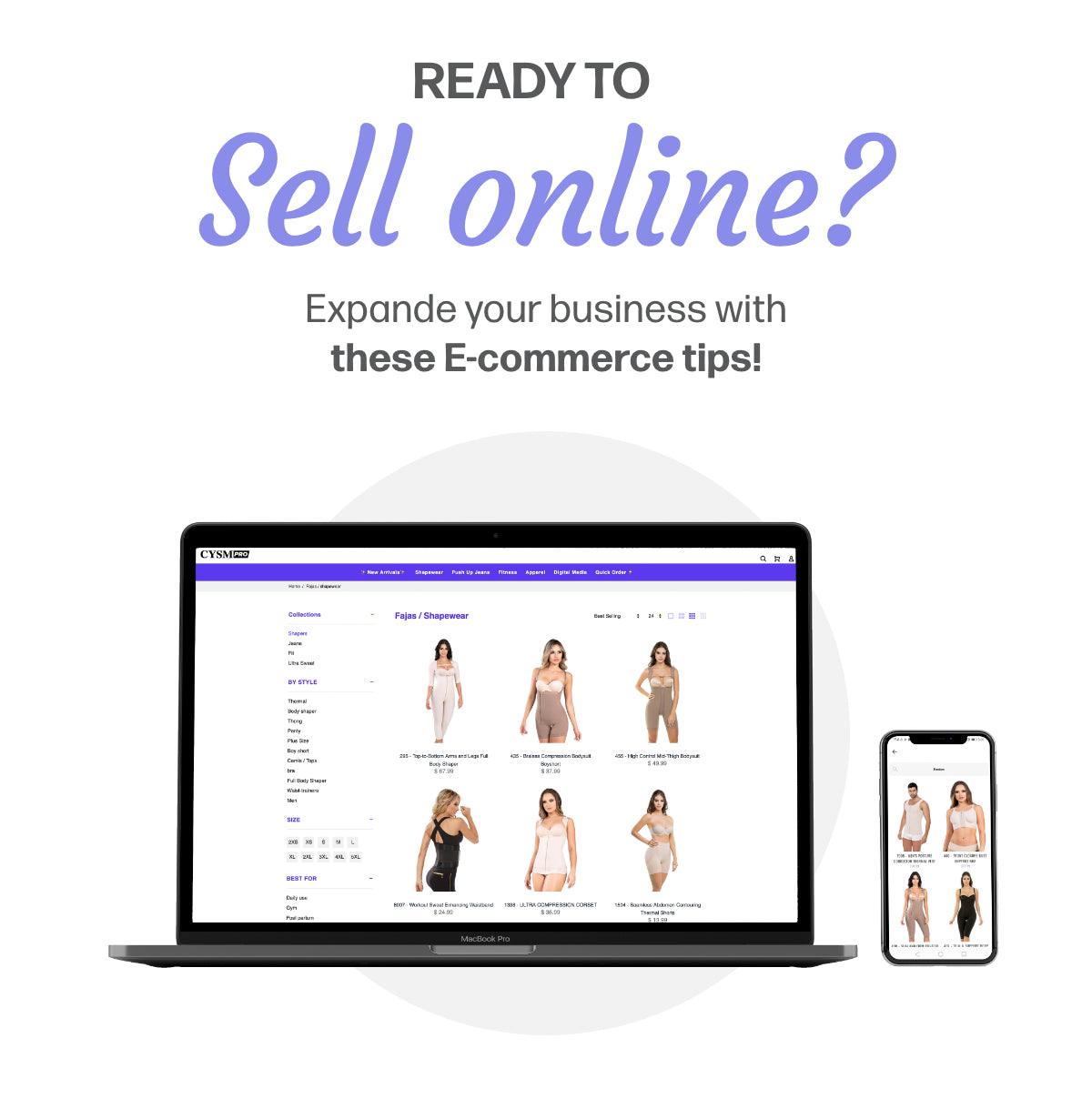 Ready to sell online? Expand your business: E-commerce tips
You might find yourself wanting to expand your business, but you are not sure which options are available for you. If you already have a business or sell catalog and would like to grow, this is the perfect article for you!.
Online stores can reach any customer anywhere and are potentially beneficial to your business. For this, an E-commerce site builder is a program that will help you create and run one. To make sure It has all the proper tools you need, we provide you with a small checklist of the most important points to take into account:
1. Storage space: Most sites will give you a limit to the number of items you can sell, take a look at options that can offer you more product space.
2. Safety: It's important to have fraud protection and a Secure Socket Layer (SSL) Encryption. Protect yours and your client's online payments.
3. Site design: We recommend a user-friendly interface, easy to understand tools and functions. Something really easy to maintain and create your store.
4. Customer assistance: A good Customer Help team that can assist you if you have a doubt.
When looking for ways to build a successful business, it's likely that you'll be thinking of how to sell more products. After all, increasing product sales ensures that you can cover your business costs and start to turn a profit. Here are some tips to consider for your business to have the success you want:

1. Set clearly defined business goals
"Every business needs a set of clearly defined goals. Having a strategic plan in place for growth, one that acts as a roadmap to success is crucial.

2. Stay focused on your customers' needs
Your customers are the backbone of your business. Everything that you do in your business needs to support your customers and address their needs in some way. This holds true for businesses that are large or small.

3. Scale your customer support ahead of time
When a business starts to scale, it can run into some challenges along the way. One of these is maintaining a good level of customer support.

4. Don't be afraid to invest in resources
In order to grow, you will require resources. If you are selling on multiple channels, or even just one, manually processing all the data can be time-consuming and increase the frequency of mistakes owing to human error.

5. Get social
Social media is a powerful tool that connects you to your customers. For online sellers, this can be a real lifeline to develop lasting relationships with your customers and create an army of online brand advocates.
Don't forget that, as your wholesaler, we also have several tools that will help you with your e-commerce store:
1. Dropshipping: Instead of having to receive and send the product, you can wholesale to customers and send their packages directly from us. 
2. Multi-channel Selling: Consider using popular channels like eBay, Amazon, Google Shopping, and Jet. And don't forget about popular social media platforms like Facebook, Instagram, and Pinterest, which also support direct sales.
3. Smarter payment processing: If you're planning to expand your business globally, you will need to offer a better payment solution for shoppers in other countries. Payoneer, for instance, allows you to receive payments from all the top e-commerce marketplaces in one account.
Meet some successful stories: