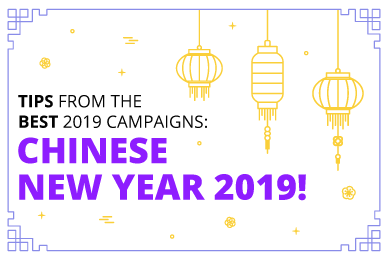 Tips from the best 2019 campaigns: Chinese New Year 2019!
One of the most important celebrations of the year, the Chinese new year or spring festival is a celebration of the arrival of the new moon and the beginning of the year of the pig, it's a sacred festivity because its a family celebration. One of the reasons being that is one of the few times of the year in which the entire population is on vacation and can reunite with their families and celebrate while bringing gifts to their loved ones.
This holiday season has captured the attention of international business since it's an excellent and unique opportunity for business to get closer to their Chinese audience. For us, it's an excellent way to see how they adapt their product or services to the market and how can we

maximize our profits

and expand our horizons with their experience!
Here are our top 3 Chinese New Years Campaigns of 2019 and what to learn from them:
The emotional aspect of the holiday is reflected on the campaign created by Malaysia airlines, in a way in which the memories of an adult working for the airline take him back the first time he and his sister traveled to see their mother. Creating a special bond between the customers and the services they offer during the holidays.
WHAT TO LEARN:
An emotional connection with your client is very important to establish a

good

relationship with your customers. A business that offers products that enhances their lives and helps them achieve something significant for themselves or their loved ones creates in their mind a deep and emotional connection that can develop into customer loyalty, and a loyal customer always comes back.
Burberry is a very digital-savvy brand, and their presence in social media is strong. A couple of years ago, they ran a campaign themed "Shake, Tap & swipe" that consisted of a cylinder box picture that when opened, had a note on the inside wishing them a prosperous new year. You could also send a personalized greeting, and would also redirect you to the collection store where they could buy presents and participate for limited event gifts.
WHAT TO LEARN:
Social media presence is

very important

, there are several social media platforms in which you can create a business profile and even an online store. When you are active in social media, you can position yourself in the daily lives of your customers, creating a bond and presence of mind when they look for products similar to yours.
A Duty-free store in the Internation airport of Incheon in South Korea offered great holiday discounts for the season, and not only that! They offered special holiday prices for customers purchasing over $200 and $100, that consisted of gift cards, coupons, thermos and special seasonal wallets for smartphones.
WHAT TO LEARN:
Rewarding your clients can go a long way, you can achieve great customer satisfaction offering extra services and not only on holiday season. Think about what can a free delivery service, gift packaging services or a coupon could do for your business, remember always to take into account how many extra services can your offer according to your customer purchases. Being understanding of them creates customer satisfaction, the more the customer feels closer to you, the most likely your marketing campaigns

will succeed

.
It's always important to find ways that work for you that you can implement to bring more customers to your business. CYSM is always on point to offer you great benefits for your business such as the Social Media Pictures for your needs!