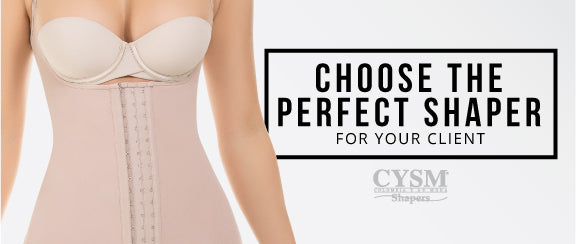 Choose the perfect shaper for your client by knowing exactly what they want
Have we ever wondered what will be the best way to choose a product that meets all our client needs? Not only do we talk about something that works for them, but also that makes a connection so they can always trust the suggestions we offer.

And just by thinking about all the products we can offer…it could become an endless task! but the reality is that it is much simpler than you expect! In this edition, we will explain our main lines of Shapers and how easily you can identify which style is the best suited for your clients.
This shapers are specially made for women that want a full body transformation. The Premium Shapewear collection offers a variety of high-quality garments, endorsed by world-renowned cosmetic surgeons, so this line of shaper is perfect for surgery enthusiast because they can achieve an extensive list of body-makeover results. This line es also perfect for those women who search for the best quality and materials. You can also ask your client if they want to focus on one one area like thighs, waist, etc. This will help you to choose the compression garment they really need.
PRO TIP
For example there may be a woman that wants a shaper with extra bust support and length below the knee , you can offer her the 454 - Ultra Curve Shaping Bodysuit and tell her about the adjustable hooks. 
This is the perfect line for a women that is a beginner in the shaper's world. Thanks to their light and soft material it is perfect for the woman that it is not get use to the ultra compressive shaping garments. You can say it's a beginners shapers. This line is also perfect for post surgery recovery due to its adequate support and an ultra-lightweight design! The advanced freedom of movement combined with a second-skin fit are the two key features that make the Ultra Flex collection a perfect choice when looking for a concealed solution in achieving extra smooth curve definition and comfort.
PRO TIP
For example if your client is a woman that want to try for the first time a shaper, you should recommend her an Ultra Flex shaper. If she wants to begin with arms and abdomen, the 603-604 is perfect for her.
The Seamless line is perfect for those women who search for technology that allows them maximum control over targeted areas of their body that they want to instantly redefine. By incorporating different compression levels, with ultra-control over problem areas and light control over the buttocks or bust, the myth of Shapewear garments that have an all-over flattening effect is debunked once and for all! And best of all, the seamless garments rest virtually unnoticeable against the skin, remaining invisible under any type of clothing!
PRO TIP
Your main client is that woman that has a special event and wants to look perfect. This shapers are invisible under any type of clothing so they are perfect for that super tight dress a woman want to use in a special ocasion. You just got to ask yo your client what time of outfit she will use to recommend the perfect shaper.